Library Services
Central Library is followed "Open Access System " for all users. Different types of users' oriented services are Extended by the library, some of them are:
Reference & Information Service
Reprographic Service
Bibliographical Service
Internet and allied Services
Electronic Resource Sharing Service
Book lending
Inter Library Loan
Users Awareness Service
Library Stacks:
The collected information materials of the library Including Books have been organized and maintained discipline wise in multistoried stacks for the users by open access as:
First Floor: Literature, Religion & Philosophy
English, Sanskrit, Hindi, Marathi, linguistics, Religion & Philosophy
Second Floor: Science & Technology
Science, Military Science, Mathematics, Physics, Botany, Zoology, Chemistry, Biology, Biochemistry, Microbiology, Neuroscience, Biotechnology, Medical Science, Pharmacy, Engineering, , Home Science, Computer Science, Technology, Architecture, Agricultural Science, Food Technology, Environmental Science, etc.
Third Floor: Humanities & Social Sciences
Geography, History, Political Science, Economics, Commerce, Public Administration, Management, Sociology, Special collections
Fourth Floor: Education, Law & Fine arts.
Fine arts, Music, Education, Law, Gandhiana, Biographies, etc.
Layout of Different Sections:
As one enters in the library, on the left, Property Counter is situated where all members get themselves registered and deposited their bags, etc. before joining the library services. Central Hall accommodates the circulation counter, display of new arrivals, etc.
Sections on Ground Floor
Reading Room cum Reference Section
Administrative section
Acquisition Section
Technical section
Circulation section
Internet section
Sections on First Floor
Thesis & bound periodical Section
General Reading Room cum News paper Section.
Reading Room cum reference :
Reading Room is established in a separate air conditioned hall furnished with latest text materials of various courses, reference books to and current periodicals for various categories of users. These reading materials are not issued home users There are only for the purpose of reading and consultation. Text- books and others reading materials are only for reference and consult purpose for all users for the studies. Reprography facility is also available for users for getting Xerox copy of required study material.

Internet Section
Internet room is equipped with latest version of computer systems. Sufficient numbers of nodes are provided only for research scholars and faculty members to access the available electronic resources and others information facilities provided by INFLIBNET centre, Gandhinagar (www.iflibnet.ac.in) through UGC-Infonet consortium. From this consortium, more than 8500 E-Journals; e-books; various bibliographical databases; institutional repositories and open access resources can be accessed by users through campus network.

Sections on First Floor
Thesis and Bound Periodical Section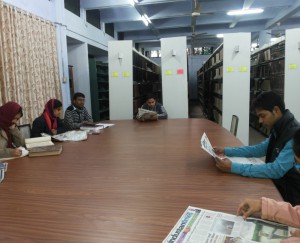 Thesis and bound Periodical is established in separate furnished hall at where the theses of various disciplines which were awarded by Jiwaji University are organized and maintained for the use of researchers and faculty members. In this section also back issues of journals in the form of bound volumes are also arranged and maintained on stacks for use to readers.
General Reading Room cum News paper section
This section is established for general study for library users, includes various course material, news papers, magazines etc. Users can also bring their own reading materials with them for reading.